Harry S. Truman (durchschnittliches Approval Rating: 45,4 %)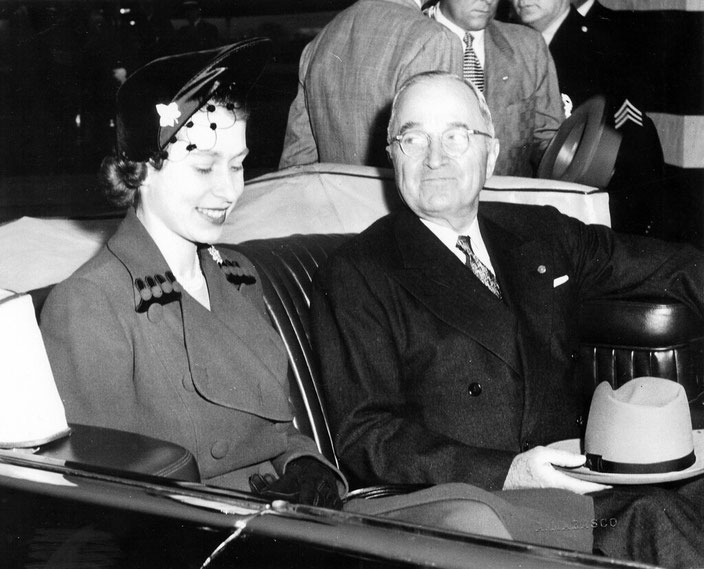 Dass der Sheriff in «Twin Peaks» auch so heisst, zählt nicht und ändert entsprechend nichts daran, dass neben dem Approval Rating auch die kinematische Bilanz des ersten amerikanischen Nachkriegspräsidenten eher mau ist. Art Baker spielte ihn 1947 in «The Beginning of the End» als Erster auf der grossen Leinwand; es folgten weitere wenig beachtete Streifen mit Robert Vaughn und James Whitmore in der Rolle des 33. Präsidenten der USA, ehe Ed Flanders ihn in der Generalsbiografie «MacArthur» spielte. 1995 erschien dann «Truman», ein solider TV-Film mit Gary Sinise. Und zuletzt tauchte Harry S. Truman kurz in Clint Eastwoods «Flag of Our Fathers» und George Clooneys «The Monument Men» auf; in Ersterem wird er übrigens von David Patrick Kelly gespielt, am besten bekannt für seine Rolle des irrwitzigen Jerry Horne in «Twin Peaks». Da schliesst sich der Kreis also.
---
Dwight D. Eisenhower (65,0 %)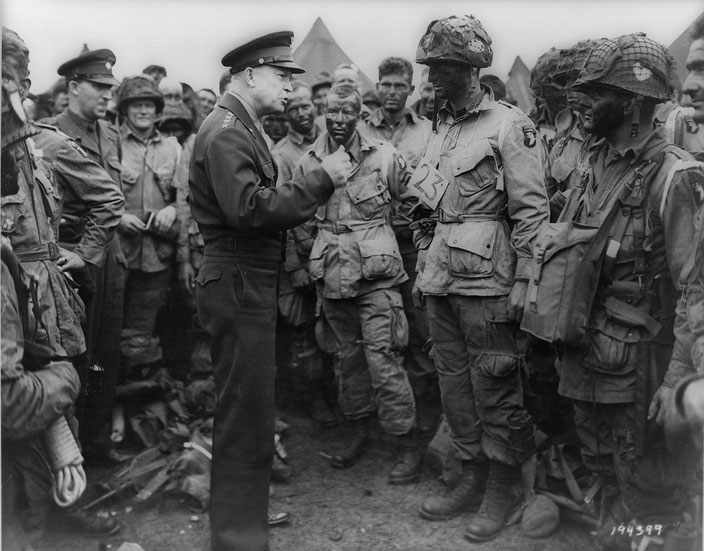 Dafür, dass der Republikaner so beliebt war und bis heute ist, nimmt sich seine Kinobilanz auch recht mager aus. In John Fords Drama «The Long Gray Line» aus dem Jahr 1955 taucht er, gespielt von Harry Carey Jr., kurz als junger Kadett auf. Sieben Jahre später spielt ihn Henry Grace als Zweitweltkriegsgeneral im monumentalen Kriegsdrama «The Longest Day». Als Präsident macht er dann aber erst in den Achtzigern seine Kino-Aufwertung: in «The Right Stuff» und der Komödie «My Science Project», beide Male gespielt von Robert Beer. Auch 1994 erscheint Eisenhower in einer Komödie: in «I.Q.» an der Seite von Tim Robbins und Meg Ryan, gespielt von Keene Curtis. Im Fernsehfilm «Ike: Countdown to D-Day» gibt Tom Selleck dann wieder den General Eisenhower. 2013 schliesslich wird er von Robin Williams Lee Daniels' «The Butler» dargestellt – wie praktisch alle anderen Besetzungsentscheidungen in diesem Drama eine eher abenteuerliche Wahl.
---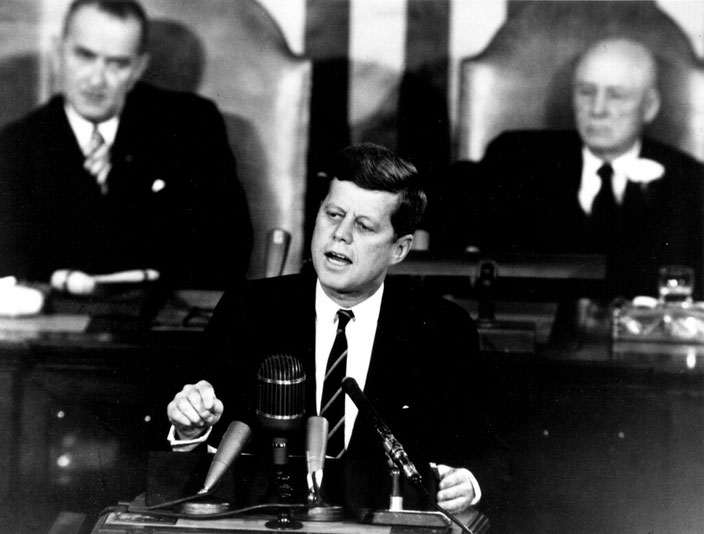 Zweifellos ist JFK der kinematischste US-Präsident aller Zeiten. Umso verblüffender ist, dass er – nachdem ihn im Jahr seines Todes 1963 Cliff Robertson als Navy-Lieutenant im Kriegsdrama «PT 109» dargestellt hatte – erst in den Nullerjahren das erste Mal als Präsident im Kino auftaucht: überzeugend gespielt von Bruce Greenwood im Kuba-Krise-Drama «Thirteen Days». Gleich dreimal wird er sodann von einem gewissen Brett Stimely gespielt: in «Watchmen», «Transformers: Dark of the Moon» und «Parkland», einem Drama von 2013, das nach dem Krankenhaus benannt ist, in dem JFK starb. In «The Butler» ist es James Marsden, der ihn verkörpert – eine der wenigen akzeptablen Präsidentschaftsbesetzungen in diesem Film von Lee Daniels. Danach gibt es noch wenig bemerkenswerte und unprominent besetzte Kurzauftritte in «Trumbo», «Jackie» und «LBJ» zu verzeichnen. Zurück zu den Kinoanfängen von JFK geht es dann demnächst im Kriegsdrama «Mayday 109»: Hier spielt Newcomer Ansel Elgort den Navy-Offizier John F. Kennedy, der im Zweiten Weltkrieg einen Angriff auf sein Patrouillenboot überlebt. Namhaftere Darsteller hatte Kennedy derweil im Fernsehen: mit William Devane in «The Missiles of October» (1974), Martin Sheen in «Kennedy» (1983), William Petersen in «The Rat Pack» (1998), Tim Matheson in «Jackie Bouvier Kennedy Onassis» (2000), Martin Donovan in «RFK» (2002), Greg Kinnear in «The Kennedys» (2011), Rob Lowe in «Killing Kennedy» (2013) und zuletzt Michael C. Hall in «The Crown» (2016).
---
Lyndon B. Johnson (55,1 %)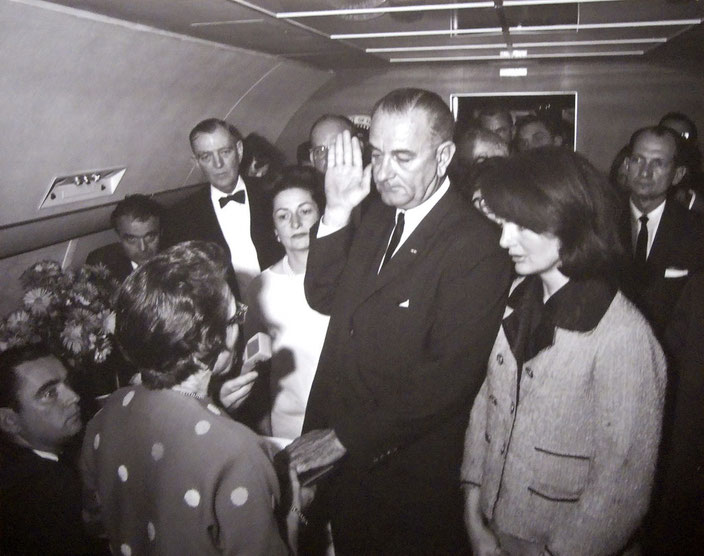 Auch LBJ taucht in «The Right Stuff» auf: Gespielt von David Moffat, ist das im Jahr 1983 tatsächlich der erste Kinoauftritt des 36. Präsidenten der Vereinigten Staaten. Es folgen der Fernsehfilm «LBJ: The Early Years», wo er von Randy Quaid verkörpert wird, ein Miniauftritt in Oliver Stones Verschwörungsdrama «JFK» sowie mit «Path to War» ein weiterer Fernsehfilm, inszeniert von John Frankenheimer, mit Michael Gambon in der Rolle von Präsident Johnson. Richtig lebhaft ist das Kinoleben des LBJ ab 2013 geworden: Liev Schreiber in «The Butler», Tom Wilkinson in «Selma», Bryan Cranston in «All the Way», John Carroll Lynch in «Jackie» und vor allem Woody Harrelson in «LBJ» polierten die kinematische Bilanz von Lyndon B. Johnson kräftig auf.
---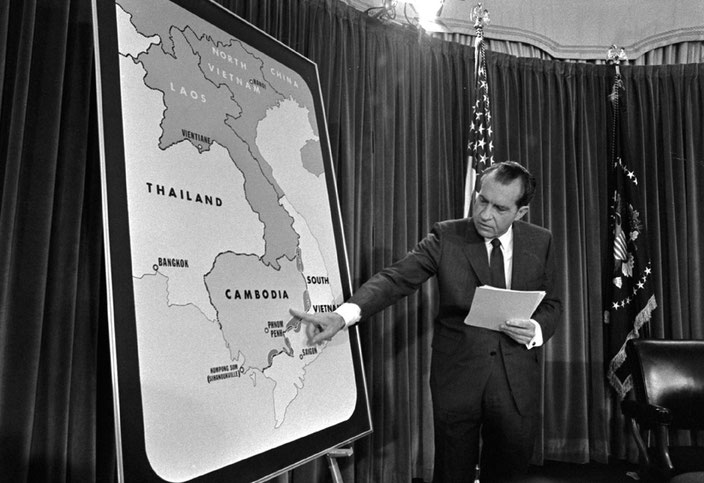 Der mit Recht abgestrafte, mitunter aber auch sträflich unterschätzte 37. Präsident der Vereinigten Staaten ist kraft seiner so schwierigen wie faszinierenden Persönlichkeit natürlich ein dankbarer, wenn auch recht anspruchsvoller, weil karikaturanfälliger Part für ehrgeizige Schauspieler. Kein Wunder also, sind für Richard Nixon einige der bemerkenswertesten Kinopräsidenten-Performances zu verzeichnen. So etwa jene erste von Philip Baker Hall in «Secret Honor» (1984): einem Ein-Personen-Stück von Robert Altman, in dem ein mit einer Pistole, einer Flasche Whiskey und einem Kassettenrekorder bewehrter Nixon seine kontroverse Karriere Revue passieren lässt. Der einsame Höhepunkt der Nixon-Darstellungen ist und bleibt aber der Oscar-nominierte Jahrhundert-Auftritt von Anthony Hopkins in Oliver Stones monumentalem Meisterwerk «Nixon». Eher auf der witzigen Seite, wiewohl durchaus treffend, war dann Dan Hedayas Part in der Komödie «Dick»; recht missraten gerieten demgegenüber – trotz Oscar-Nominierung – die Versuche von Frank Langella in «Frost/Nixon» und John Cusack (ernsthaft?) in «The Butler», das Wesen dieses so schwer durchschaubaren Menschen und Politikers zu fassen. Für ein Glanzlicht sorgte 2016 dann wiederum kein Geringerer als Kevin Spacey in der Komödie «Elvis & Nixon» – und das, obwohl er damals noch als Präsident Underwood in «House of Cards» amtete.
---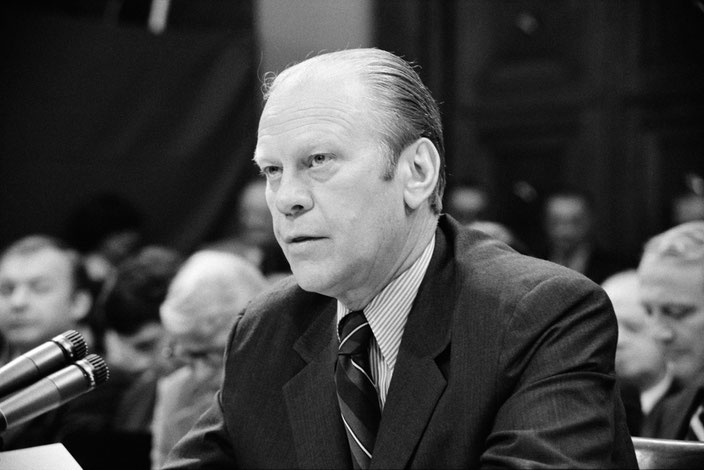 So kurz und unbemerkenswert die Amtszeit des Nixon-Nachfolgers war, so knapp lässt sich auch sein Kino-Palmarès zusammenfassen: 1976 spielte ihn Dick Crockett in «The Pink Panther Strikes Again», 2003 «L.A. Law»-Star Corbin Bernsen im Fernsehfilm «The Commission» und zuletzt und am prominentesten Bill Camp in «Vice», der Oscar-nominierten Satire über Ex-Vizepräsident Dick Cheney. Seine Frau Betty tauchte 1983 immerhin mal in einer Folge von «Dynasty» auf – freilich als sich selbst.
---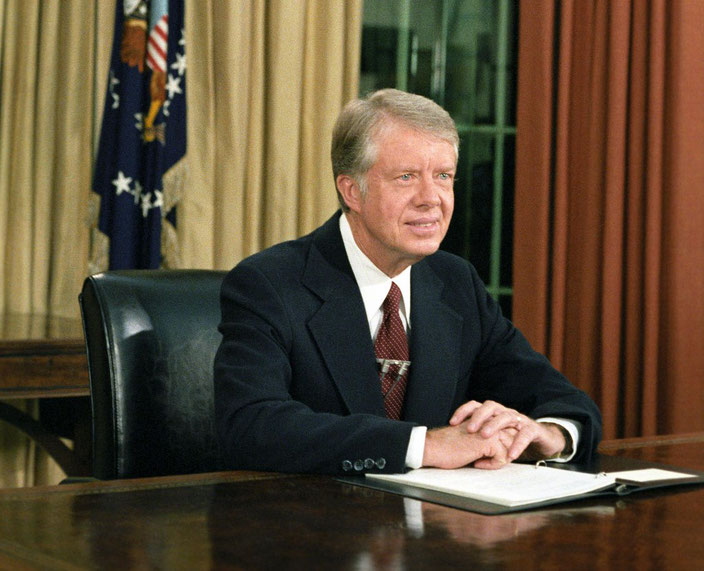 Noch kläglicher schaut es nur beim 39. US-Präsidenten aus. Ein gewisser Ed Beheler spielte ihn 1978 in «Sextette» und 1993 in «Hot Shots! Part Deux». Das wars. Und das, obwohl Carter als der Präsident gilt, der am meisten Filme geschaut hat zu seiner Zeit im Weissen Haus.
---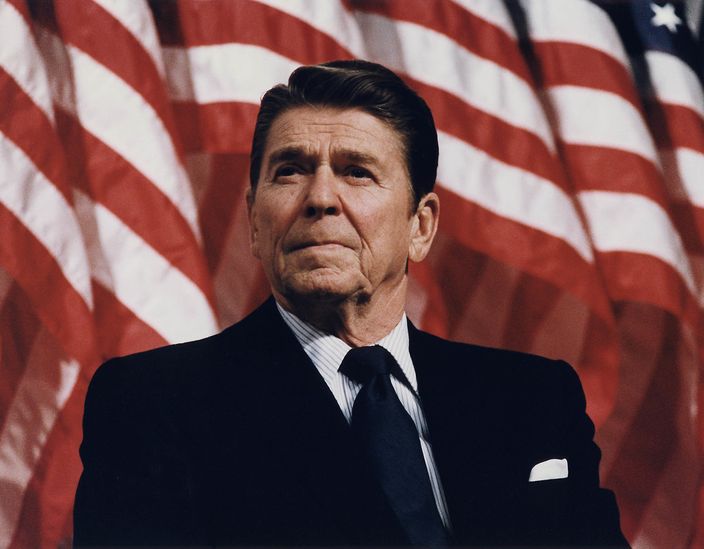 Gar nicht mal so beeindruckend schaut es bei jenem Präsidenten aus, der zunächst selber Schauspieler war. Vor allem in Komödien tauchte «The Gipper» auf: 1982 in «Airplane II: The Sequel», gespielt von Rip Torn, sodann in «Back to the Future II», «Pizza Man» und ebenfalls «Hot Shots! Part Deux». Im Politthriller «L'affaire Farewell» von Emir Kusturica war es dann Fred Ward, der ihn verkörperte; in der Thatcher-Biografie hatte Reginald Green einen kurzen Auftritt und in «The Butler», nun ja, der Brite Alan Rickman. Schon länger angekündigt ist «Reykjavik» mit Michael Douglas; ob der Film auch realisiert wird, scheint aber fraglich. Bemerkenswerte Reagan-Darstellungen gab es überdies im TV: von James Brolin in der Miniserie «The Reagans» etwa oder zuletzt von Bruce Campbell in «Fargo».
---
George H. W. Bush (60,9 %)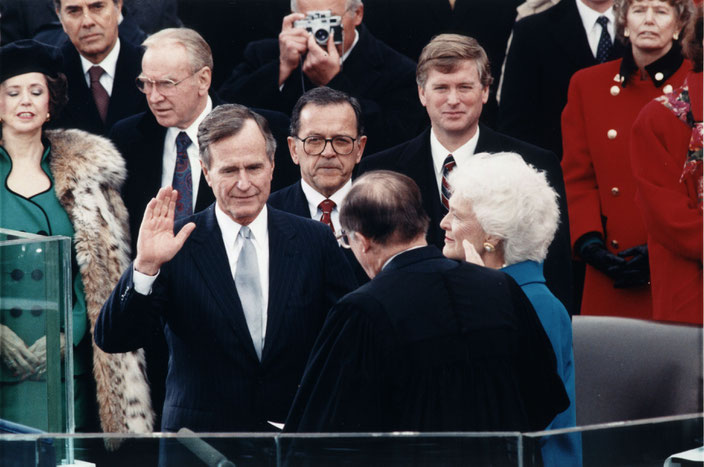 Den einzigen Kinoauftritt von Bush sr. gab es – abgesehen von den Scherzperformances in «The Naked Gun 2½» und «Hot Shots! Part Deux» – 2008 in Oliver Stones «W.», mit James Cromwell in der Rolle des 41. Präsidenten der USA.
---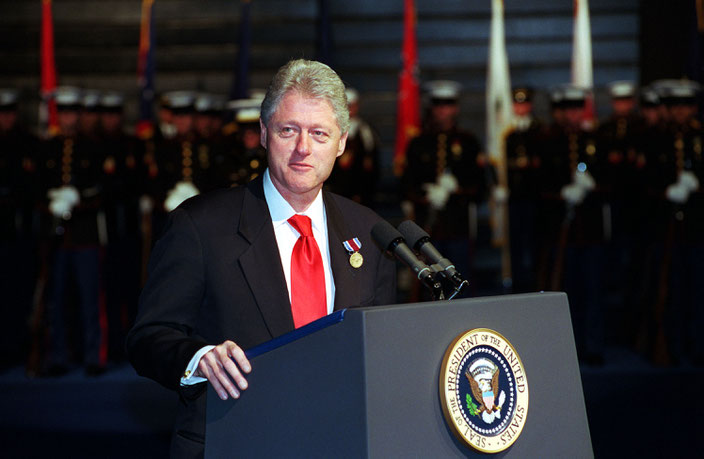 Die einzige ernst zu nehmende Kinodarstellung des 42. US-Präsidenten ist nicht mal eine offizielle: Dass der zwar brillante, aber auch ziemlich zwielichtige Präsidentschaftskandidat Jack Stanton in Mike Nichols' Meisterwerk «Primary Colors» (1998) Bill Clinton ist, lässt sich nicht nur an der heisseren Stimme des grau melierten John Travolta leicht ablesen. Es handelt sich hier auch um die Verfilmung eines Tatsachenromans von 1992 über den ersten Präsidentschaftswahlkampf der Clintons, der zunächst unter anonymer Autorenschaft erschien, mittlerweile aber dem Kolumnisten Joe Klein zugeschrieben wird. Im Fernsehen tauchte Clinton an der Seite des wie stets von Michael Sheen gespielten Tony Blair in Person von Dennis Quaid auf: im dialoglastigen Golden-Globe-nominierten Drama «The Special Relationship».
---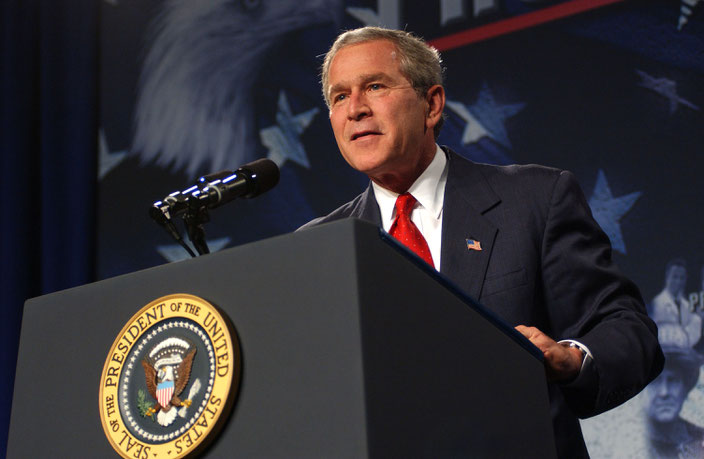 Immerhin zwei grosse Kinoauftritte hatte Bush der Dümmere: In Oliver Stones zahnlosem und ziemlich unsinnig terminiertem Drama «W.» wird er ordentlich von Josh Brolin gespielt, in der Oscar-nominierten Satire «Vice» ziemlich brillant von Sam Rockwell. Und dass der debil irrlichternde Präsident Joseph Staton in der Satire «American Dreamz» eigentlich Bush ist (und der von Willem Dafoe fies verkörperte Vize eigentlich Dick Cheney), ist doch recht offensichtlich. Gespielt wird er übrigens von Dennis Quaid – der, siehe oben, also nicht nur Clinton kann.
---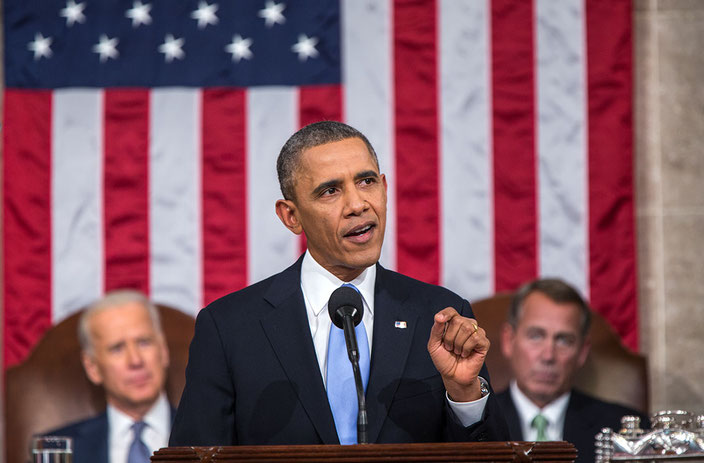 In «The Butler» gibt es einen Miniauftritt des 44. US-Präsidenten. In den beiden 2016 erschienenen Dramen «Southside with You» (mit Parker Sawyers) und «Barry» (mit Devon Terrell) werden dann jeweils die jungen Jahre, das Ernst- und Erwachsenwerden sowie die Politisierung des nachmaligen ersten afroamerikanischen Präsidenten thematisiert. Und – in ersterem Fall – die erwachende Liebe zu Michelle.
---
Donald Trump (40,0 %)

Das wird noch ein bisschen dauern. Wenn es dann aber so weit sein wird – und es wird ganz sicher irgendwann und ganz sicher ziemlich multipel und ziemlich spektakulär so weit sein –, kann Alec Baldwin den Part übernehmen. Er hat ja schon eine gewisse Übung in der Darstellung des ersten Reality-TV-Präsidenten der USA. Als Alternative böte sich vielleicht Jeff Bridges an.
Edit: Immerhin ein TV-Trump steht mittlerweile fest: Der Ire Brendan Gleeson wird den Part in der noch namenlosen Miniserie von Billy Ray übernehmen, die auf dem Buch «A Higher Loyalty» von Ex-FBI-Direktor James Comey beruhen wird.